Doggie Art Gallery
The number of artists inspired by the para-dog-sical visage of the Dog is only growing with time. This Gallery is open for submissions of your Dog Head Art. We welcome one and all. The Dogs are the veritable spirit of Egalitarianism and as such should be represented by a great variety of individual styles. Please send your submissions to our website as an attachment file:
jpg/gif format or email us with your phone # & we'll tell you where to mail your photos.
Art@doggiediner.com
SpeaKING OF aRT:I found this interesting little piece of coolness on the internet: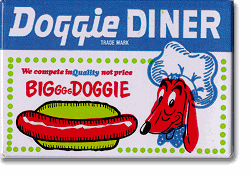 Avialable through http://www.fridgedoor.com/doggiediner.html
For hot dog lovers everywhere. High quality flat glossy "button style" fridge magnet. Full magnetic back. Measures 2" x 3".